Today I traveled for the first time to Washington D.C. My children were stunned. "Mom, you can't leave on Mother's Day!" But leave I did. Around 10:00 a.m., after a lovely breakfast prepared by my husband (my youngest spread butter on the toast) I arrived at Indianapolis International Airport. By noon, I was flying over the muddy Potomac landing in the nation's capital. I can't believe it has taken me 30+ years to actually make the trip to D.C., and it took an act of Congress to make it happen!
As an
AIME
board member, I was given the opportunity to represent school library media centers during
National Library Legislative Day
. This coming Tuesday is the actual lobbying appointments, but we get two days to prepare for this major event. Even though I have been in DC for less than 12 hours, I have learned and experienced so much already.
After I got off the plane, I was greeted at the airport by Yvonne
Olinger
, Director, Brown County Public Library who is the State Coordinator for Leg (pronounced Ledge Day.) I also met Carol
Lunce
from Indiana State University who is traveling along as well.
We took the metro to Union Station. The metro is the subway system in D.C. Being an Indy girl all my life, and not widely traveled (or even thinly for that matter) it was my first time on this type of public transit. I felt like a kid looking around in wonder at everything. At Union Station we ate lunch (I had to most awesomely fresh Philadelphia sushi role) and the checked in at the hotel.
In line at the front desk, Yvonne, who doesn't know a stranger, introduced herself to Hal Shill, Ph.D., from Penn State. Hal is a Professor of Political Science and also a librarian. Yvonne recognized him as a Leg Day regular. Hal agreed to share a taxi with us and was pressed into service in our group. We only had about 15 minutes to settle in before we had to take off for our Lobbying 101 meeting for
Newbie's
. The taxi ride was, well interesting (can you say motion sickness) and arrived at the ALA Washington offices in one of the most beautiful neighborhoods I have ever seen. Here is a pick of the building plate (well, I thought it was cool anyway...).
Our main speaker/trainer was Stephanie Vance, who is, well, an advocacy guru! She served as a congressional staff member and is now (in her words, not mine) "a card carrying member of ALA." She is great fun and a very effective presenter. I would love to see her at an
ILF
conference! You can find out more about Stephanie and what she does at
http://www.advocacyguru.com
, or on Twitter
http://twitter.com/advocacyguru.com
.
Here is Stephanie (and me) in the ALA Washington office. She is the very young one on the right.
I also got a photo op with ALA Executive Director Keith Michael
Fiels
. Despite his "why am I taking a picture with this woman" look in the picture, he was really a very personable guy!
Probably the highlight of my day was meeting two awesome women from the Office of Intellectual Freedom. Here is a picture of me with Deborah Caldwell-Stone (left), Acting Director and Angela
Maycock
(right), Assistant Director.
Those of you who know me can well imagine my excitement at meeting these ladies. For those of you who don't know me, it would be like meeting a rock star or a well respected actor. My love for the implementation of school reform, web 2.0 in school libraries, and speculative fiction is matched only by my passion for protecting the 1st Amendment rights of my teen students.
If you would like to view the updates of this meeting on Twitter, please follow me at
http://twitter.com/yalibrary
, or follow AIME at
http://twitter.com/AIME_ILF
.
After we left the meeting, we took a very nice walk (
OMG
the weather was perfect!) around
Dupont
Circle. For those of you who are from Indy, it is like our downtown circle but much more awesome (please no hate mail for saying this, it is true).
Dupont
has a famously large GLBT community, more ethnic restaurants in one block than in a 50 miles radios in Indy, and
ohhh
, the shopping (yes, honey, I got these shoes on sale!)
Here are some pics of
Dupont
that I didn't take but linked from the www.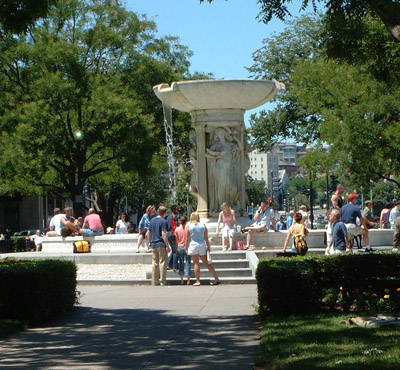 My group ate some delicious Asian food at the City Lights of China restaurant. I highly recommend it! These sub terrain restaurants are a very exotic experience for me. Do we have anything like this in Indy?
Here is the scary escalator I went down on my way back to the Metro station. It took minutes and minutes to reach the bottom. The optical effect of going that far down inside a huge concrete tunnel really messed with me. I felt like I was going to fall into the abyss at any moment. Of course crazy natives were literally jogging down the escalator beside me while I was holding on for dear life.
Probably the most hilarious experience was when I was busy taking this pic in the metro station. Hal is the blurry figure closest to the camera.
A couple of young girls got in my way and stalled by the doors of the train. When I tried to step forward, the doors closed on me! Oh man, this Midwestern wall flower was being left behind in DC without my group. The looks on the faces of my companions was so shocked, so horrified, that I burst out laughing as they helplessly watched me fade into the background. I laughed for minutes on end while people gave me a wide berth suspecting insanity.
Here was the good news:
1) The terminal was very clean, well lit, and populated enough that I felt safe. In fact, I am sure it seemed that I was the most dangerous person around with my random laughing!
2) Yvonne was such a good teacher that I already knew how to work the Metro system from my airport experience. I knew I was heading for Union Station, that I was already on the red line, and I had a handy little pocket map thanks to the folks at the ALA office.
3) The next train was only a 7 minute wait. The signage at these terminals is excellent! We librarians could learn a thing or two from the planner who designed this.
4) I am a librarian darn it! I can figure out anything given the right reference sources!!!!
My new friends waited for me at Union Station and we had a good laugh about this!
So now it is midnight in the hotel lobby where the wireless is free. I guess it is time for me to get some rest before my laptop turns into a pumpkin and all is lost. Busy day tomorrow, more to report. Forgive me for typos that you catch before I do, I am a bit tired.
Thanks AIME for providing this opportunity. I hope I am representing you well!